Highest burnt-out rate is represented in medium-sized firms (11-50 members) at 19% (Haar, J. 2021)
Are you concerned about burnout and its negative impacts on the wellbeing and performance of your SME team? With wellness being such a broad topic, creating or implementing an organisational wellbeing strategy can seem complicated.
Join us 27 July @ 11am for a free online webinar, answering the questions of 'Where do we start?'  (Register here)
Effective Wellbeing
'If you're ignoring wellbeing, you're missing out on money'  MBIE, November 2020
Wellbeing strategy does not have to be complicated, but it should be effective.  An effective strategy is more than a tick list, lunchtime yoga or table-tennis on Friday.  Effective wellness strategy is owned by everyone, not just the team leader or wellbeing champion. It's a culture of wellbeing that permeates workplace behaviour and environment, and it supports your organisation as an 'employer of choice'.
Why Bother?
Firstly, let's acknowledge that ultimately everyone is responsible for their own wellbeing and health practices.  However, employers can play a big role in encouraging and giving access to health practices that benefit both the individual and the organisation.
Some stats:
Investing in staff wellbeing initiatives can have up to 12:1 return on investment. That's $12 return for every $1 invested! (NZIER, 2020)
When the employee experience is right, they can generate twice the level of customer satisfaction and innovation, and generate 25% higher profits (Avande.com)
Leaders burn out too! The cost to lose a great leader, then recruit and induct a replacement (salary of approximately $140k p.a.) is up to $63k (Steven Kotler)
Job burnout is linked positively to absenteeism and turnover, and negatively with job performance (Haar, J. 2021)
Highest burnt-out rate is represented in medium-sized firms (11-50 members) at 19% (Haar, J. 2021)
What Should I be Considering?
Effective wellbeing culture should be an integrated part of your business model – essentially the human component of business practice. You can begin with an initial assessment of your existing practice,  by asking:
How does it feel to be at work?
How do we engage as a team?
When and how do we communicate with our team?
When and how do our team communicate with leaders?
What performance pathways are in place?
How do we acknowledge life, outside of the workplace?
These are initial questions that can build a profile of the team culture and experience that exists – and will also highlight the areas that can be worked upon.
What are Key Concepts that Underpin Wellness?
We strongly believe that effective and sustainable practices in wellbeing, are built from the inside-out philosophy of development. 
We begin with personal leadership and wellbeing principles and build upon these concepts as we work through whānau, team and organisational practices that support both wellbeing and leadership.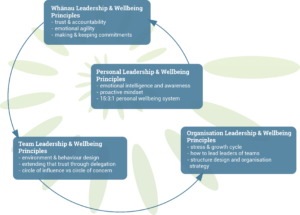 How can we begin?
We can help with that and there are a number of options.
Enrol in our free webinar 'Workplace Wellbeing – Keeping it Simple for SME'. Register here.
Invest in our one-day working seminar, Tauranga, August 25th. Learn more here.
Contact us directly for a no-obligation chat. Connect here.